Eat in the Park: Last Chance to Grab Tickets for Buxton's Biggest Event this Year!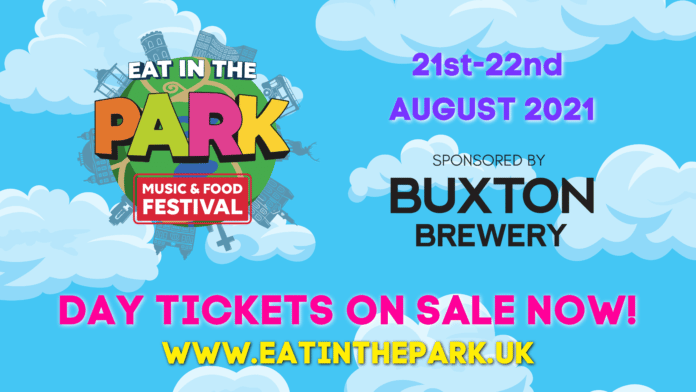 The weekend of Buxton's first ever Eat in the Park festival is fast approaching. Those of us who've already bagged tickets for two days of food, drink and entertainment in Pavilion Gardens can barely contain our excitement. If you haven't got tickets for what promises to be Buxton's biggest event this year on Saturday 21st and Sunday 22nd August, the good news is, day tickets are now on sale if you can't make both days. There are still two-day full weekend tickets available but now on limited availability so don't delay!
Childhood friends Jake Burnham and George Darbyshire and their handpicked team have been busy organising the extravaganza for months now, considering every detail. There'a a new funky map that reveals exactly how Pav G will become home to Buxton's first music festival in decades. 
The main stage will rock with a host of the UK's top award winning tribute acts such as Oasish, Laid (James tribute) Kazabian and Little Fix. Another big headline act just recently announced: Deco – a band who've become a huge hit during lockdown, describing themselves on their Facebook page as 'Blurring the line between timeless 80's synth-pop and contemporary discernment, Deco create undeniable bops with a bite'. If you've missed dancing with your friends, now's your chance before the Summer's out.
Local legends such as The Aups and Sweet Chin Music will be blasting out their own sounds from the Local Music Tent. If bands aren't your bag, there will be DJs spinning hot wax elsewhere in the park. If you want to bring the kids, there'll be lots happening to keep them entertained with a dedicated family area with entertainers, activities, rides, kids sports and more! Buxton has a family-friendly reputation and Eat in the Park will be no exception. It's not all for profit, the festival will be supporting two charities Blythe House Hospicecare and Helen's Trust and Home-Start UK.
Although the event is new, it actually celebrates the 150th anniversary of the Pavilion Gardens, gifted to the people of Buxton in 1871 by the then-reigning Duke of Devonshire.  Retaining its Victorian splendour, surrounded by the majestic outlines of Buxton Opera House, the Old Hall and the Pavilion itself. It seems a natural arena for locals to come back together and celebrate what makes the town great.
As its name suggests, the real target of the festival is your tastebuds. There will be more than 30 food and drink stalls over the course of the weekend; The Yorkshire Crêpe Co, Mr D's Pie Machine, The Chakra Lounge, Thai Street Food, Lone Star, YoGo Bar Frozen Yogurt, ChefStef to name a few – and many more. The sheer amount of diversity is bound to include something you've never tried before.
Main sponsor Buxton Brewery have even created their very own Eat in the Park lager and IPA for the occasion, available to buy on draught or cans on the day.
If you can't wait until the weekend of 21/22 August, there's a launch party at Buxton Brewery Beer Garden on Staden Lane this Friday 13th August, from 6pm – 11pm, everyone welcome! Live music, bar and food vendors will aim to get you ready for the big one the following weekend. See you there!
Eat in the Park takes place on Saturday 21st & Sunday 22nd August 2021 and will be open 12 noon – 9pm both days.
Ticket bookings
Book your tickets at eatinthepark.uk Various ticket types are available including full weekend tickets and day tickets. Please note that tickets will not be available on the door, so make sure you book ahead!